It's an absolute joy. Amazing quality build and incredible tones... love it!
ROY FULTON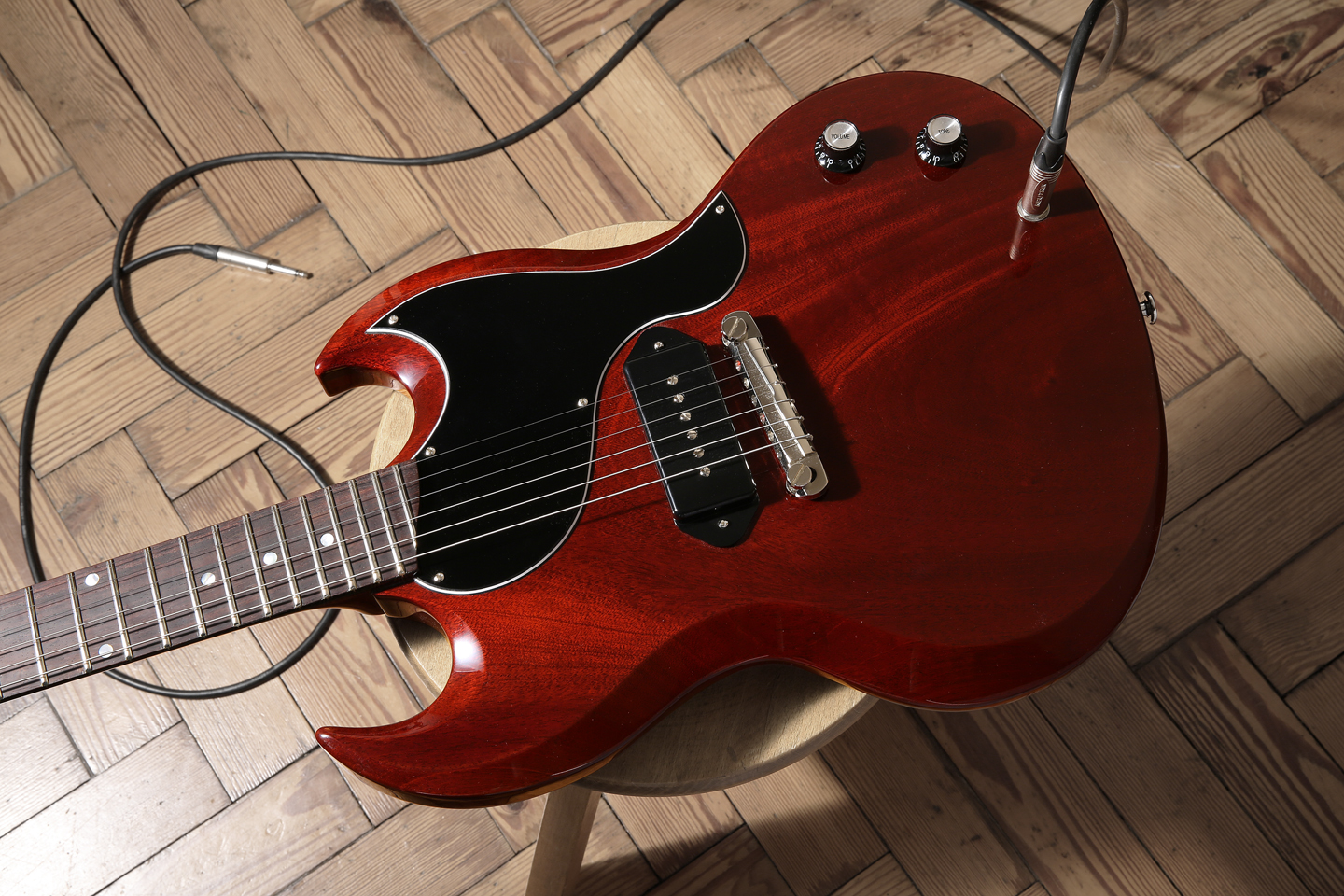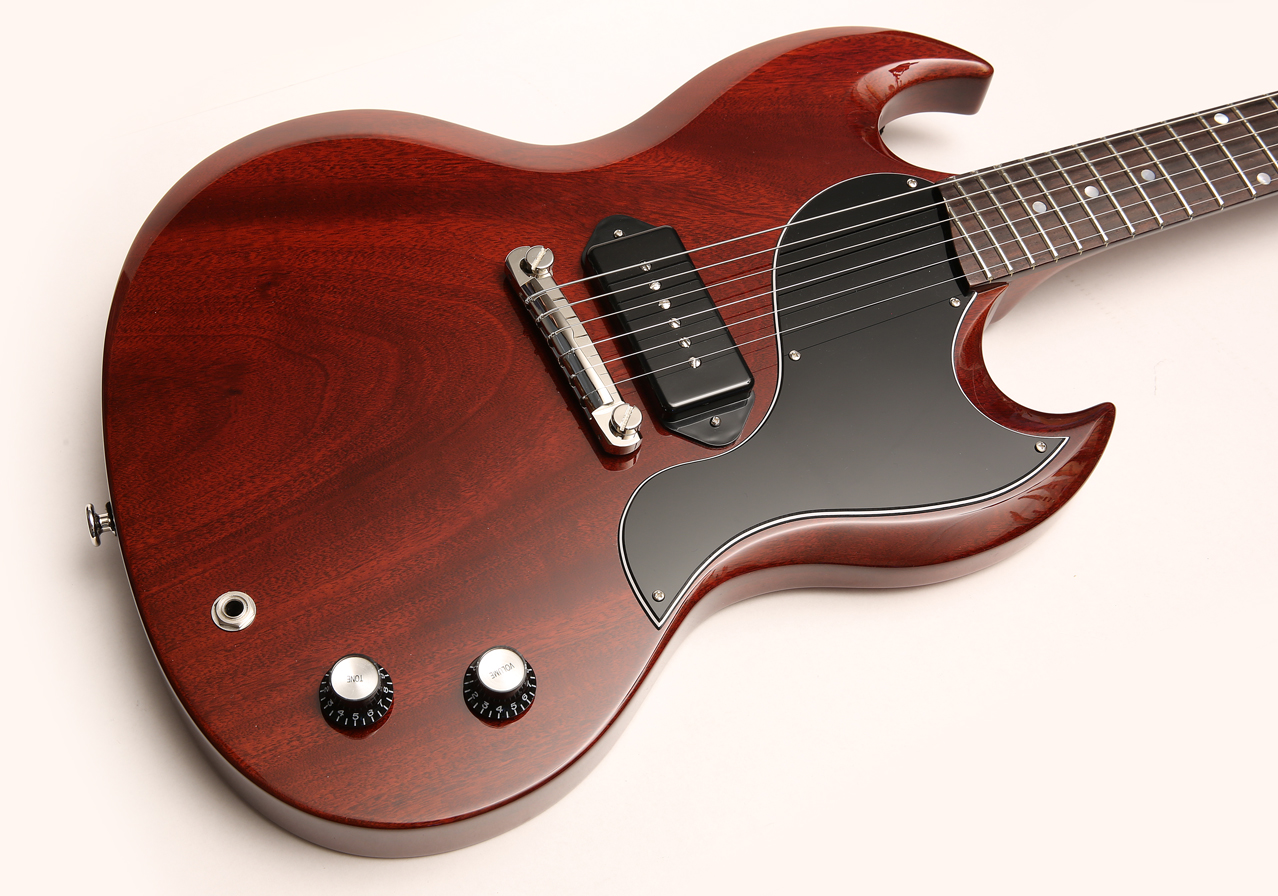 JS JUNIOR
Only the very best premium grade mahogany is selected for the JS junior. For extra resonance the body is constructed in two pieces (front and back) allowing the inside to be slightly chambered, while still maintaining a good balance on the strap (also available as a solid one piece body). The neck is carved from quarter sawn mahogany, creating a very stable neck with a great feel. Rosewood is chosen for the fingerboard adding a warmth to the tone with each board being carefully selected for its rich, dark colour. A cherry tint is sprayed after applying the grain filler and sealer, then followed by many thin coats of clear cellulose lacquer. After a minimum of two weeks drying time the guitar is cut back to 800grit then 1200grit and finally polished to a high gloss achieving a classic deep vintage cherry finish. The TV yellow is achieved by applying a white base coat and then a cream tint before the clear coats. We also offer a low lustre finish for a more worn-in feel and appearance.
All hardware is high quality, and includes an ABM aluminium wraparound bridge with a perfect intonation curve and outstanding sound characteristics. The vintage style Kluson 'Butterbean' button tuners allow fine tuning and smooth operation. The guitar is fitted with two high quality RS Guitarworks 500k CTS pots with a Superpot for the volume both with very even tapers. A 50's wiring scheme is used in all our guitars as we have found that it minimises treble loss when rolling back the volume.
A Bare Knuckle 'Nantucket' dogear P90 is fitted to capture the sound of those early SG and LP jr playing blues and rock guitarist. It can also produces a great country tele twang. The wide, squat coil creates a fatter tone compared to a Strat or Tele coil, while the twin magnet design lends all the power of a humbucker. Low notes are solid and tight while the upper mids really grind, but they never sound harsh; just fat and chunky. High notes can really sing and with a slightly breaking-up tube amp, wonderful harmonic feedback is possible. A touch sensitive dynamic and the ability to clean up well as the volume is backed off. The JS junior sounds and feels every bit as good as it looks.
£2,350
Demonstration by Roy Fulton
S P E C I F I C A T I O N
BODY Chambered two piece mahogany (or solid one piece body) 1.5" 38m
NECK Mahogany, quarter sawn
SCALE LENGTH 24.75"
FINGERBOARD 12" radius, dark rosewood / slightly rolled edges
NUT 43mm Bone
FRETS 22 Dunlop 6100 jumbo
MARKERS Mother of pearl dots
TRUSS ROD Adjustable double action
HEADSTOCK OVERLAY Ebony
LOGO Gold wetslide
HARDWARE Nickel plated
BRIDGE ABM aluminium wraparound bridge
TUNERS Vintage style Kluson 'Butterbean'
PICKUP Bare Knuckle Dogear 'Nantucket' P90 DC 7.5 Magnet Alnico 5
CONTROLS RS Guitarworks CTS 500k Superpot, CTS 500k tone
CAPACITOR BKP Jensen paper in oil
FINISH Nitrocellulose, high gloss or low lustre
COLOURS Cherry red or TV yellow
CASE Hiscox hardshell
Fretwire, Neck dimensions, controls and pickup can all be specified
O P T I O N A L E X T R A S
Mojoaxe compensated wraparound bridge + £50 http://www.mojoaxe.com/
VINTAGE SERIES
Aged hardware, low lustre cellulose finish + £50
Aged hardware, high gloss or low lustre crazed cellulose finish + £150
Aged hardware, high gloss or low lustre crazed cellulose finish, chips dings and areas of wear + £250